22. September 2020
An attractive identification label solution for seed packets
Güse GmbH has expanded its portfolio by adding various performance classes of EPSON high-efficiency colour label printers for needs-based, in-house coloured label printing. The green sector's proven partner also recommends these versatile allrounders for applications including the attractive identification labelling of seed packets or seed bags – and also offers a large selection of matching labels in a wide variety of designs to yield excellent printing results.
As Güse GmbH's Division Manager Andreas Ziegler explains: "Designing and printing attractive labels for seed packets or bags, even in very small print runs, has never been easier." EPSON's new colour label printers were developed specifically to meet the needs of partners and customers, and are brand-new in the Güse product range. The C3500 Series represents an economical entry level model that fulfils all the current requirements. The ColorWorks C6000 printer, with a maximum print resolution of 1200 x 1200 dpi, is a smart choice for more demanding or even more complex printing tasks. The two models available in this series are suitable for labels with a printed width of up to 108 mm. Printing speed varies depending on the required print resolution and label width – top speeds of up to 119 mm/second are achievable at a resolution of 300 x 600 dpi.

Consistent, durable inks enable high-resolution images, graphics, logos and texts to be printed on labels, even in very small print runs. At the same time, pigmented EPSON inks guarantee printing results that are smudge-proof and waterproof as well as UV-resistant, for label uses both indoors and out of doors.
All the printer models are characterised by ease of operation together with high flexibility regarding label formats and materials. There are no problems when using self-adhesive premium high gloss and matte labels, or even special labels of various types, e.g. made from grass-based paper. All the materials offered in the Güse shop have been comprehensively tested for use in the new printing systems. Thanks to their exceptionally good colour brilliance and print quality, they ensure a powerfully eye-catching and thus sales-promoting image at the point of sale.
However, as a proven partner of the green sector, Güse not only stocks a wide selection of blank labels, but also offers its customers a comprehensive range of services, whose spectrum extends from soundly-based advice to the needs-based supply of already pre-printed coloured labels.
More information: https://www.guese.de/musterbeutel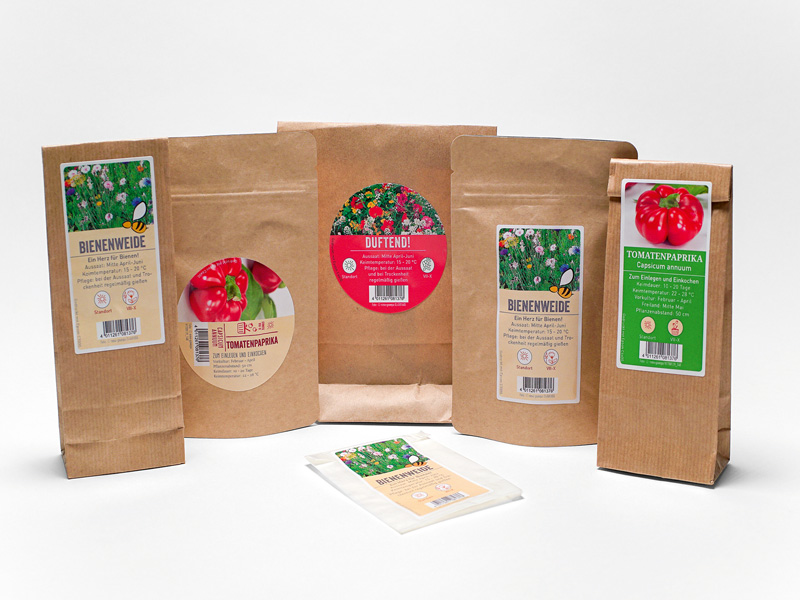 Andrea Weigert
Corporate communications/PR
+49 40 - 72 73 60 54