07. October 2020
Outstandingly good print quality and colour brilliance, high flexibility, maximum economic efficiency and easy operability – printing coloured labels in your own enterprise offers a large number of positive effects, and is gaining increasing acceptance in many sectors. Björn Weber, Division Manager for identification label solutions in the Mediaform Group, provides information about the advantages, decision-making criteria and solutions that are right for the market.
Mr Weber, which are the current conspicuous trends in the identification and labelling area?
Nowadays, tough competition, a highly diverse range of variants, ever smaller batches as well as increasing product individualisation basically demand that companies both large and small show great flexibility and above all professionalism regarding product identification labelling. In addition, there are stricter statutory requirements, e.g. as a result of the Food Information Regulation (LMIV) in the foodstuffs area, and by the Medical Device Regulation (MDR) and Unique Device Identification (UDI) for medicinal products. At the same time, there is a need to work highly efficiently and economically to enable successful survival in the market.
The trend is equally clear on the retail trade side and with regard to consumers' expectations – the main requirement here is for attractive labels with a large information content and high recognition factor. A brand's value at the point of sale should be highlighted through appropriate packaging, thus positively influencing a customer's decision to purchase. The packaging and label always form a single unit in this respect – which is why a label's shape, material, layout and colouration play a role that is just as important as that of the packaging itself.
Can the requirements can be fulfilled by printing coloured labels?
Yes, that's correct. But until a few years ago, the only option was to give an order to a printer when high-quality coloured labels were needed. These were pre-ordered, produced and delivered in the required quantity and design. The procedure was cumbersome, tedious, not very efficient, and certainly not flexible. Moreover, due to minimum order requirements and printing tool costs, it was not exactly cheap either. Printing coloured labels in one's own establishment, using ink-jet or laser colour printers, was also qualitatively unsatisfactory, and was equally costly.
Modern colour label printers are available in all performance classes nowadays, giving convincingly excellent colour brilliance and optimum print quality, thus allowing economic in-house printing from a batch size of 1 upwards. They can easily be integrated into existing work environments, and are characterised by user-friendly, intuitive operator guidance. Thus searching for a supplier, minimum order quantities, printing plate and tool costs for the printing works, and warehouse and administration costs are as much a thing of the past as long lead times.
Is the ability to respond very quickly a significant advantage?
Yes, in the event of spontaneous marketing and sales campaigns for example, or if there are changes in legislation or specific customer requirements. With one's own colour label printer, corrections to layout and to the necessary data are possible at any time and in digital print quality without any great effort or expense. As you know, prompt implementation of a new label design can have very positive effects regarding the market launch of new products. This may mean a real competitive advantage, especially in a hard-fought market. For example, this category includes both the food and the beverage markets. Moreover, another aspect deserves special mention: a coloured label together with variable product data can be printed in only a single working step. That also saves effort, time and costs. Ultimately, the totality of the financial, time and logistics benefits, together with high flexibility and efficiency, is what makes colour label printing an intelligent choice.
In which sectors do you see particularly high growth potential for the solutions you already offer in a wide variety?
Such solutions are justified in almost all areas of application nowadays. Our main target market is currently the food industry, and in this case the spectrum ranges from tea and coffee production, including the corresponding retailing, to spices, cereals and herbs. However, we are also aiming particularly at beauty, cosmetics and hygiene articles, chemical and plastic products, and products in the area of media and communications.
Furthermore, additional highly interesting target groups comprise beverage production, including breweries, winemaking and spirits, drugstores and pharmacy, bakeries and confectioners, clothing, shoes and leather goods, paper and printing, and meat processing and the corresponding retail trades. Moreover, as well as this classical product identification labelling, the common applications scenarios for coloured label printing also include colour printing hazardous goods information or information signs in the chemical and hygiene industries, together with professional dosage instructions in a pharmacy. Last but not least, coloured labels are used in the events and logistics industry to specify the contents of transport boxes or crates, thus simplifying their clear assignment. So, as you can see, a high-performance colour printing solution tailored to the respective needs can be used very flexibly for a very wide variety of applications.
However, the most frequent counterarguments still relate to the cost per label…
I can reassure you and our customers in that respect, because the use of currently available inkjet printers, for example, now allows labels to be printed very economically in either small or large print runs. In most cases, giving an external printing company an order for a small print volume is not sensible, due to the minimum order requirements, uneconomical printing machine equipment and additional tooling costs already discussed. Moreover, individual models made by manufacturers such as Epson, OKI or VIPColor are optimised by being equipped with convenient individual cartridges for each colour. This considerably reduces printing costs, since only the empty ink/toner cartridge needs to be changed.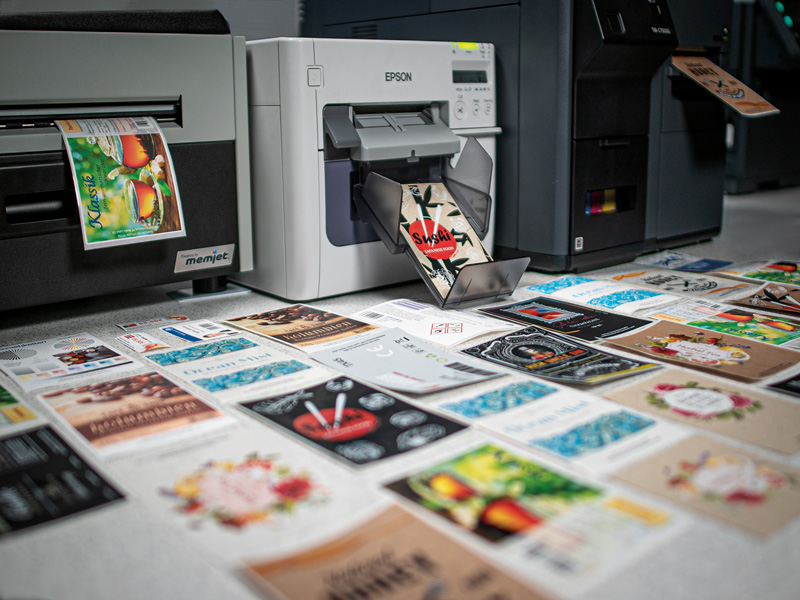 Andrea Weigert
Corporate communications/PR
+49 40 - 72 73 60 54