23. March 2022
Med.Logistica in Leipzig: Mobile Healthcare in a nutshell
Mediaform will present solutions for mobile data acquisition in Hall 2, Stand C01. Special focus will be on a new development: MediScan. This modularly structured app supports medical personnel in maintaining a safe medication process, thus contributing significantly to increased patient security and safety.
The medication process to administer liquid active ingredients in syringes is an essential part of daily work in a hospital or intensive care ward. The use of Mediaform's MediScan app now makes this process significantly easier, and above all safer and more secure, because medical staff now have modules building one on another in the app to support them for the individual phases of the medication process.
The MediScan app is based on Mediaform's high-performance KIT platform (Component Information Technology), which is an indispensable building block in a world of fast, individually customised product delivery. The modules of this innovative IT structure range from software product administration, data acquisition and data storage, to generating complex documents based on stored data. At the same time, it is possible to expand the data via imports or to make further use of it for other purposes via exports. Moreover, the software architecture offers fast linkage to and exchange with other software through REST (REpresentational State Transfer) interfaces. These interfaces have been designed by ROCKIT for the easy administration of KIT and other products, e.g. the MediScan app. The advantage: the technical back-end is easy to operate. Even individually customised products can be configured without help from a developer.
As another highlight at the Med.Logistica under the "Mobile Healthcare" claim, Mediaform will present its comprehensive portfolio of user-friendly MDA (Mobile Data Acquisition) devices from Zebra. The mobile data acquisition offer includes various handhelds and tablets that optimise and make the data flow safer and more secure from order-picking to patient identification in a hospital and doctor's practice.
To implement the FMD (Falsified Medicines) Directive that is already in force, Mediaform presents suitable barcode scanners already pre-configured in various designs for securely reading out complex 1-D/2-D barcodes. These high-performance, ergonomic, hygienically-designed TTP and Eco models also contribute to an optimised identification process, and are perfectly designed to meet the special requirements of the health sector, e.g. regarding disinfectant resistance as well as user friendliness.
As part of a complete solution offer, trade fair visitors can also obtain information from Mediaform about suitable printing solutions. The robust fixed-position and mobile label printers are specifically designed for use in clinics and laboratories. Of course, like the MDAs and scanners being exhibited, they fulfil the special requirements of medical establishments.
As usual and not least, Mediaform also turns the spotlight on its almost unique spectrum of products and services in the supply area.
The standard range of branded labels contains, among other things, strongly-adhering labels for sample identification – as well as labels for special uses in biobanks, pathology and research. An exquisite selection of paper and film identification labels will be exhibited on the trade fair stand.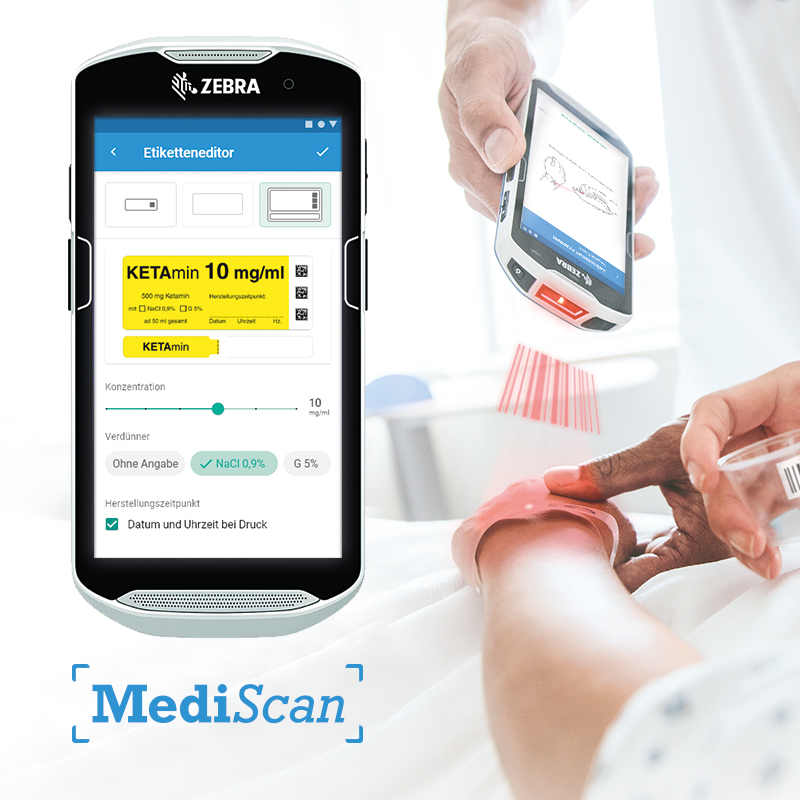 Andrea Weigert
Corporate communications/PR
+49 40 - 72 73 60 54