11. November 2020
ScanTools allows more efficient SARS-CoV-2 (COVID-19) job registration
MVZ (Medical Care Centre) Rheumatology and Autoimmune Medicine Hamburg GmbH is a rheumatology centre located in the heart of Hamburg, with an adjoining specialist immunological-rheumatological laboratory. The laboratory is situated in Mönckebergstrasse and supplies laboratory services both for patients in its own practice and for external practices focusing on rheumatology. The laboratory was founded in 2012 as part of the then group practice of Prof. Dr. Hans-Hartwig Euler, Prof. Dr. Angela Gause and Dr. Micheline Kalitzky.
New analytics bring new challenges
Dr. Matthias Kalitzky, CEO of the Rheumatology Medical Care Centre, explains: "After the past few months, which were overshadowed by the coronavirus pandemic, an entirely new challenge for the laboratory has now arisen." Since a few weeks ago, the specialist laboratory has received more than three hundred COVID-19 laboratory orders every day, which must be recorded in the laboratory system on a daily basis. According to Dr. Kalitzky: "Manual input of the orders into the laboratory information system soon took us to our limits. The personnel expense was enormous, and recording on the same day was almost impossible."
Quick project implementation
In search of a flexible, uncomplicated solution to manage job registration, the CEO discovered Mediaform and its ScanTools automated laboratory data capture software. The software undertakes centralised capture, assessment and control of incoming laboratory samples together with paper-based and electronic laboratory orders in a single solution. Thanks to perfect teamwork between the laboratory, laboratory system supplier and Mediaform, a quick, uncomplicated introduction of the ScanTools software was achieved within a few days. Only seven days elapsed from the initial discussion to routine operation.
Time and cost savings
Dr. Kalitzky is pleased: "Using ScanTools software, we were immediately able to clear the outstanding backlog and to record all incoming COVID-19 laboratory oders efficiently, securely and on the same day." The laboratory works with a space-saving single workstation solution including a high-performance desktop document scanner. After the order arrive at the laboratory, they are read in through the scanner and assessed directly in the ScanTools interpreter. As well as all the barcodes, the interpreter reads all the data printed and noted in handwriting on the form. The system also has ScanTools Verify, which enables laboratory staff to check data quickly and economically, directly on the display screen. After the jobs have been sent to the Laboratory Information System (LIS), a stack sheet is printed out to act as a cover page for document archiving, which considerably simplifies searching for documents that have already been recorded. In this way, the laboratory can process jobs comprehensively and in consistently high quality, and can supply all the data to the LIS.
Summarising the successful launch of the Mediaform scanning system, Dr. Kalitzky says: "We are now finally able to master the existing workflow again thanks to Mediaform's ScanTools system, and also still have capacity free for further COVID-19 testing and growth."

More information: https://software.mediaform.de/en/products/laboratory-data-capture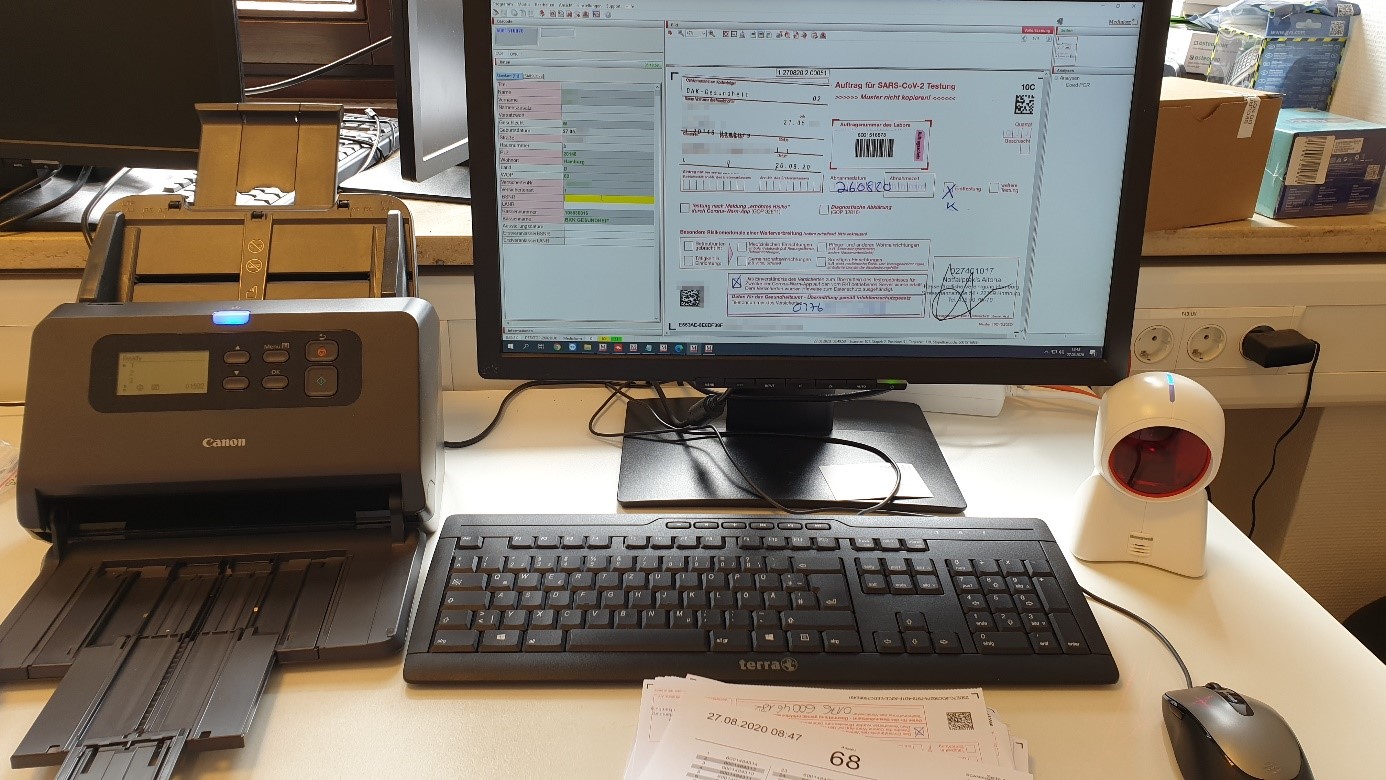 Andrea Weigert
Corporate communications/PR
+49 40 - 72 73 60 54