21. April 2021
For an effective point of sale appearance
Must your labels draw attention specifically to the product– and are their materials, motif and colouring intended to arouse particular associations in consumers' minds? Or do you want to attract notice by using colourful stickers and spontaneous sales campaigns or additional channels of communication?
Product labels are more than just legally prescribed information carriers nowadays. On soft drinks, coffee, tea, wine, beer and spirits, they visual­ise their contents perfectly. They act as a landmark when purchasing, and they support the brand and inspire trust.
With the right labelling solution, you can easily print attractive product and campaign labels instantly yourself – no matter how varied your needs may be. A professional result, however, must always be based on optimum teamwork by the printer, label material and adhesive. That's why all roads lead to Mediaform, because with its strong product portfolio, innovative strength and many years of consultancy competence in the sector, this full-service solutions provider is one of the market's leading suppliers.
In this respect, Mediaform serves chiefly the hardware area's medium to high performance segment. Epson's C7500 Series can print thousands of very durable 4-inch labels per day at a high printing speed, while the Epson C6000 printer produces high-resolution labels up to 112 mm wide at a slightly lower speed. The C6500 model, on the other hand, is designed for material widths up to 215.9 mm, and both it and the VIPColor VP600/650 and VP700/750 Series are suitable for wide-format printing. Memjet technology allows labels up to 215.9 mm wide to be printed at a high resolution of 1600 x 1600 dpi and a speed of 304.8 mm/second.
On the other hand, compact desktop models like Epson's tried and tested ColorWorks C3500 Series are an economical entry-level solution, or the smart choice for businesses that need to flexibly produce small batches of labels. Use of the Bottle-Matic dispensing systems also enables labels to be applied automatically and above all precisely to bottles and jars.
To allow the use of the full range of functions of every printer it offers, Mediaform also offers a wide selection of suitable consumables, as well as ink cartridges – both from leading suppliers and from its own production. In this respect, the spectrum extends from standard materials on rolls in various colours, thicknesses and formats to high-turnover materials made from renewable raw materials such as grass fibre paper or structured labels. The product range is supplemented with transparent, black and silver-coloured film labels as well as robust kraft paper for laser printing. With our innovation-friendly R&D Department and the company's own printing works at Reinbek, we can also develop highly individual solutions for customers.
More information: shop.mediaform.de/farbetikettendrucker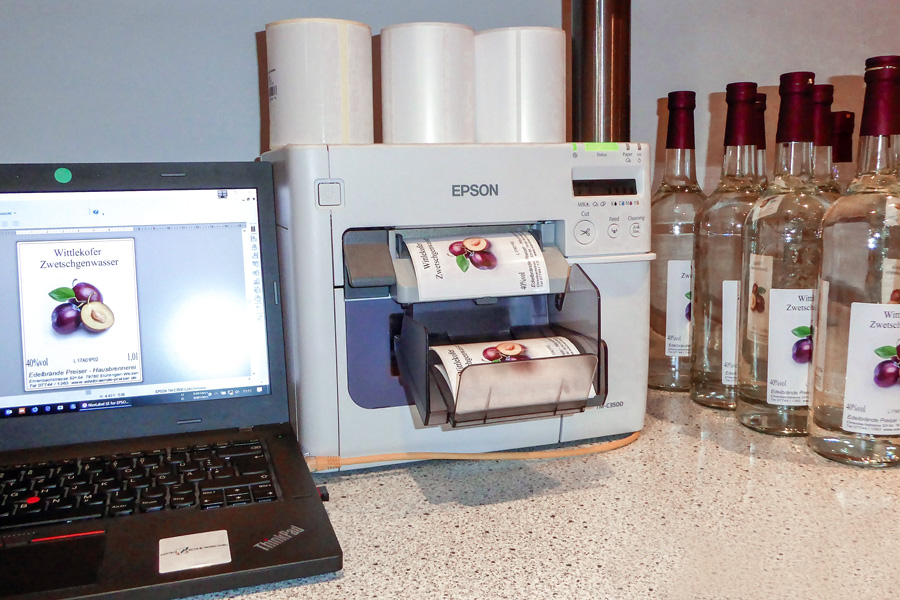 Nadine Kneschke
Corporate communications/PR
+49 40 - 72 73 60 308