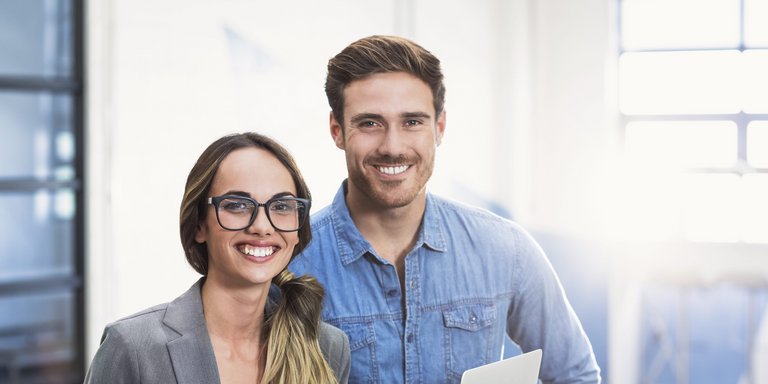 Work for Mediaform
Here's what we offer you
The Mediaform group of companies has been a permanent feature of the Northern German corporate landscape for thirty years. As a result of the efforts and dedication of our approx. 150 employees, Mediaform is an economically sound, expanding combination of four plcs and two affiliated companies. To ensure it stays like that, the happiness and wellbeing of our employees has first priority.
Sarah Braeutigam
Human Resource Manager
+49 40 727360 780
A friendly working atmosphere
Employee and company events: it's not all just work; we can celebrate as well! Regular company events reinforce interdepartmental togetherness. Christmas and Easter campaigns, an Advent tombola and shared donut-eating at the close of the year also ensure a good atmosphere.
Flat hierarchies yield short decision pathways: the characteristic features of our owner-managed company are lean structures and short communication channels – often even straight to the top management. Thus nothing stands in the way of fast processes!
A healthy corporate culture: our values, which are both outwardly sustained and also have top priority in day-to-day business, are: Quality, Reliability, Commitment and Flexibility.
Free drinks: drinking is important for both body and soul. That's why we provide our staff with free drinks such as coffee, tea and water.
Mobile Food Station: The Chillmahl company, honoured by the "Eathealthy Award", delivers daily supplies of delicious meals, prepared using exclusively fresh, regional ingredients without any preservatives or colourings. In addition, Mediaform subsidise the meals, and provides fruit free of charge in the cold season of the year.
BGM (Occupational Health Management): devoted to maintaining our employees' health and performance, occupational health management has established itself as a part of our vital corporate culture. The Reinbek/Glinde Occupational Medical Centre provides us with expert advice and practical support in this respect.
Regulated working hours: to ensure harmony between work and family life, we offer our employees flextime working hours, coupled with trust-based working hours and an opportunity for a home office.
Support in every situation: as we know from our own experience: things don't always run smoothly, either in professional or in private life. We stand by our employees and offer our support, even in special family situations, to find a solution together.
Personal and professional development
Individual encouragement: We want to move forward together. That's why we support advanced training measures that are requested and identify potentials in feedback discussions, thus giving our staff completely individual encouragement.
Remuneration and further benefits
Fair pay: our appreciation of our employees' commitment is not limited to the human level. For us, fair wages are self-evident, and are based on thirteen salary payments.
Accepting the cost of an HVV (Hamburg Transport Association) Travelcard: you don't have a car? No problem! We accept the costs of public local personal transport in the Hamburg Metropolitan Region (HVV Travelcard).
An occupational old-age pension scheme and capital-forming benefits: in addition to the opportunity to join a direct insurance scheme, you can also make supplementary payments to your individual savings account.
A high level of job security: as a strongly-growing company, permanent employment contracts are the rule for us. With appropriate dedication and good performance, nothing stands in the way of your career in Mediaform!
Very good transport connections: due to the direct proximity of the Hamburg Metropolitan Region, the transport infrastructure is very well developed.
Company car parks and bicycle parking spaces: we offer parking spaces for cars as well as for bicycles and e-bikes (with a charging station) on the company premises.