03. May 2021
State Premier Daniel Günther visits Mediaform
At Mediaform in Reinbek on 30 April 2021, Daniel Günther, Minister-President of the State of Schleswig-Holstein, was comprehensively briefed on the company and its system-relevant product solutions for the healthcare sector. The delegation's visit lasted about one and a half hours, and was rounded off with presentations, technical discussions and a factory tour.
The prominent visit focused entirely on an exchange of information. During the visit, at a total of five stations, Mediaform demonstrated its wide variety of products and services for clinics, medical laboratories, Coronavirus test centres and Covid-19 vaccination centres.

Fighting Coronavirus

For Germany's biggest vaccination centre in Hamburg's Trade Fair Centre, for example, under contract to the Hamburg Association of Statutory Health Insurance Physicians, Mediaform developed Covid-19 vaccine identification labelling together with the accompanying vaccine certificate labelling. The complete solution, which consists of dedicated software, 2-D barcode scanners, pre-configured printing systems and optimally matched label material, currently enables up to 8,500 patients/day to be positively, safely and securely vaccinated against Covid-19. The solution can be flexibly expanded as necessary.

Solutions for laboratories, clinics and test centres

With an annual production volume of around 65 million laboratory labels and a customer base of 1,350 laboratories and clinics in the German-speaking region, Mediaform also offers wide-ranging expertise in the sample/specimen labelling area. The portfolio comprises labels, movement documents, printing systems and the corresponding software to record and evaluate both electronic and paper-based laboratory orders and material sample/specimen data. Nowadays, both Coronavirus test centres and medical practitioners benefit from the strong concepts in this segment.
Safety and security for patients in routine clinical work

Whether it was the hardware or software, standard materials or customised special solutions –Mediaform's comprehensive range of solutions for routine clinical work also impressed the eminent guests. For example, space-saving desktop printers and perfectly matched patients' wristbands are available for in-patient admissions. High-performance software concepts also give optimum support to medication identification labelling and administration in anaesthesia or in intensive and emergency medicine.

Inspiring technology, knowhow and visions

Jörg Weber, the company group's Managing Director, welcomed the visitors at the headquarters in Reinbek, under strict hygiene precautions. "Mediaform is a good example of the many medium-sized company champions which, through passion, innovative strength, consistent customer focus and above all intelligent solutions, have managed to enter the topmost group in their sector."
State Premier Daniel Günther praised in particular the solution provider's dedication in the fight against Coronavirus and for greater patient safety and security. At the same time, he was visibly impressed by the diversified range of products and services. He concluded by saying: "This sustained success for many years is a strong signal to the workforce and to the entire region – and not least it also confirms the company's competitiveness in a hard-fought market."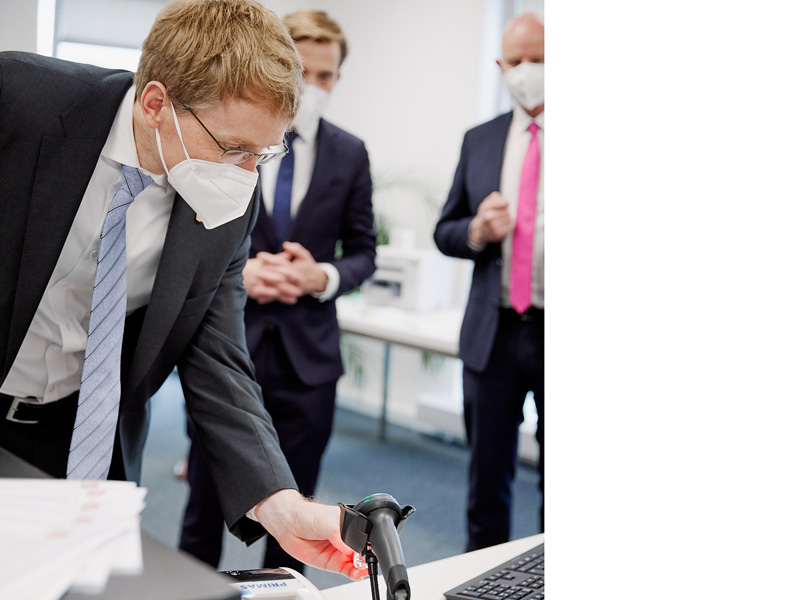 Andrea Weigert
Corporate communications/PR
+49 40 - 72 73 60 54