20. September 2023
RFID solutions – a big selection now from Mediaform
Mediaform expands its portfolio and online shop
Mediaform has added another exciting product segment to enlarge its portfolio and thus also its online shop: Since the beginning of September, as well as useful information on the subject of RFID, the company now offers not only a large range of RFID printing systems and readers, including matching accessories, but also a great variety of RFID labels in a wide range of designs.
RFID (= Radio-Frequency Identification) is the key to increased safety, security, transparency and efficiency for specific areas of application and requirements. The technology is used for contactless, automatic labelling, identification and localisation of products, living beings, devices, components and vehicles by means of radio or electromagnetic waves - and is used mainly in logistics, trade, industry and agriculture. However, the technology is now also finding uses in access control, waste disposal and inventory management.
RFID labels …
are a central element of the technology. They consist of a covering material, an adhesive and an inlay. The inlay itself comprises an antenna and a microchip with a chip ID by which the object can be uniquely identified. Additional information can also be stored on the chip. These high-quality, self-adhesive identification RFID-labels from leading suppliers in Mediaform's product range are exclusively fitted with passive ultra-high-frequency (UHF) inlays that are compatible with the protocols UHF EPC Gen 2 V2, ISO/IEC 18000-63 and RAIN RFID. Their reading range performance has been checked using industry standard test equipment on a large number of interfaces.
All the standard labels are supplied in roll form, making them ideal for high-volume processing in efficient identification labelling procedures. The widest variety of materials, formats, chip types and inlays are available to meet the respective requirements. Thanks to their focussed technology and product expertise, the Hanseatic company's specialists can also develop special formats for individual requirements.
RFID printers …
to print and code roll-form identification labels with UHF inlays are available from Mediaform in all size classes. Customers will find the biggest range of these in the industrial printers segment. All the thermal transfer printers on offer are designed for maximum service in 24/7 operation. Their excellent performance, low fault susceptibility and fast printing speeds are impressive. Prices range from around EUR 2,500 to about EUR 6,000.
In the desk-top printer area, the ZD621R and ZSD611R printers are two favourably-priced entry-level models from Zebra. Both can effortlessly handle a print volume of up to 800 labels/day. The space-saving compact devices have print resolutions of 203 and 300 dpi, with maximum print widths of 56 mm and 105 mm respectively, depending on the model.
Among mobile devices, the Zebra ZQ630 Plus-RFID with its clear LC display comes into special focus. This ergonomic, lightweight all-rounder operates in direct thermal mode with a print resolution of 203 dpi and a print speed of up to 115 mm/sec. It is equipped with impressive connectivity: USB, RS-232 (serial), Bluetooth, WLAN, Bluetooth Low-Energy and USB Mini ensure uninterrupted data exchange.
RFID readers …
are the third essential component in the RFID process. To read or write data, Mediaform specialises exclusively in high-performance handheld RFID readers with integrated antennas to communicate with UHF labels. The central tasks of these robust multi-talented machines include building up an electromagnetic field and consequently also activating the microchip in the RFID tag, filtering the response signal, and processing, writing and ultimately also the transmitting the data via interfaces into a higher-level system such as LVS, PPS or ERP.
The stationary and portable devices from well-known manufacturers are characterised by robust design and a user-friendly operating concept. Above all, however, they guarantee contactless data exchange in seconds over a distance of three to six metres and through suitable materials. The one-stop supplier offers RFID handhelds designed for complex tasks, either as holders to link to MDA (mobile data acquisition) devices or as complete solutions with a built-in display screen.
Accessories
The new RFID product world is completed by compatible, high-quality accessories. The spectrum ranges from adapters, cables, cutters and print heads to dispensers for label printers and power supply accessories.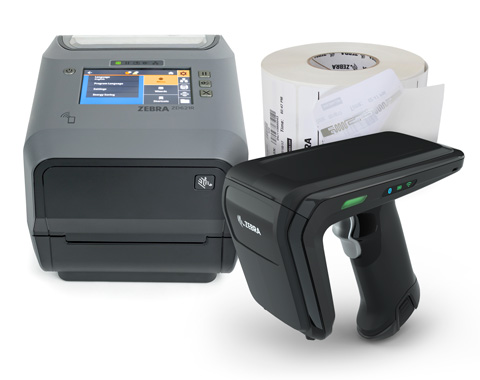 Andrea Weigert
Corporate communications/PR
+49 40 - 72 73 60 54