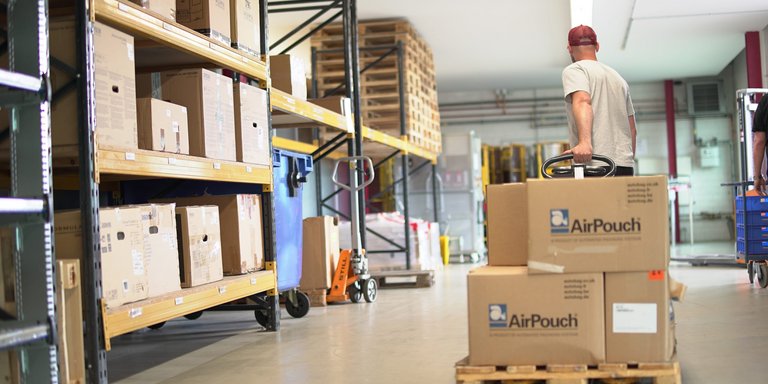 Two things count above all in mail-order trading: speed and reliability. Whether it's 10, 100 or even 1,000 orders/hour, B2C or B2B, single cartons or whole pallets – goods ordered today must preferably reach the recipient tomorrow.
With Mediaform you are on the safe side in this respect, because our smart labelling and identification solutions make mail-order trading easy, economical, efficient and above all transparent.
We cover all the sector's application areas with our comprehensive portfolio of economic printing systems, optimally matched labels and accessories, and high-performance scanners and MDAs. From product and shelf labelling in the warehouse, through job acceptance and order-picking, and all the way to shipping through parcel service providers.
Optimise your logistics and mail-order processes now! We will gladly help you to achieve it.
Henrik Buchhorn
Business Development Manager
+49 40 727360 99
Pre-cut labels on liner material? That need not be the case in many applications today.
The new Linerless Labels from Mediaform do without a liner and are thus significantly more environmentally friendly and also more efficient than conventional labels with a liner. They are made of direct thermal material with a special silicone coating on the top side and adhesive on the lower surface. In this way, the labels on the roll do not stick to each other - but after printing they still reliably adhere directly onto the product or packaging. There are no problems when applying the labels to paper, cardboard, glass and plastics (flat surface). The label rolls can be individually cut to the respective required label length by means of a cutting system built into the printer. So the variable label length of the linerless material guarantees the greatest possible flexibility in identification labelling. The label width, however, is defined by the width of the label roll.
Advantages in many respects

Linerless labels from Mediaform – That's around 100% more labels on a roll compared to conventional labels.

By using this material, you reduce roll changes to a minimum, increase your production time and optimise your storage and transport logistics. Since there is no need to laboriously peel the label from a backing material, and it can be stuck on directly after removal from the label printer, you also profit in terms of handling expense and efficiency - every day and with every label printed.

Another advantage: the continuous material can be cut to any required length - so you are highly flexible with regard to the label format and do not have to order, stock and use the required labels pre-cut and in the right size in each case.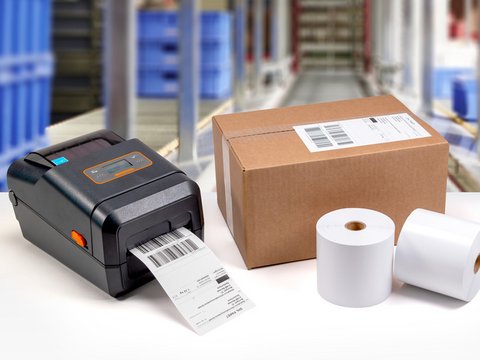 A bigger target group, better visibility and wide acceptance in the marketplace: for many companies, external sales platforms like Amazon or eBay are an important tool to optimise their sales success. In this respect, the proven worldwide virtual market is not the only thing that makes marketing so easy – there is also the additional opportunity to arrange for storing and shipping the company's own products to be controlled conveniently and reliably via these fulfilment providers.

But every product sent to the provider needs a scannable label with a unique, correctly printed barcode. This is the only way to ensure that the goods can be uniquely identified and stored in the logistics centre, and finally that they can also be retrieved again.

Successful label printing is quite easy with the new Mediaform starter sets. The bundles assembled exclusively by our product advisers contain a high-performance, easy-to-use label printer of the renowned Bixolon or Primas brand together with top-quality compatible labels in roll form. You can begin professional label printing immediately – and in addition you profit from attractive package prices.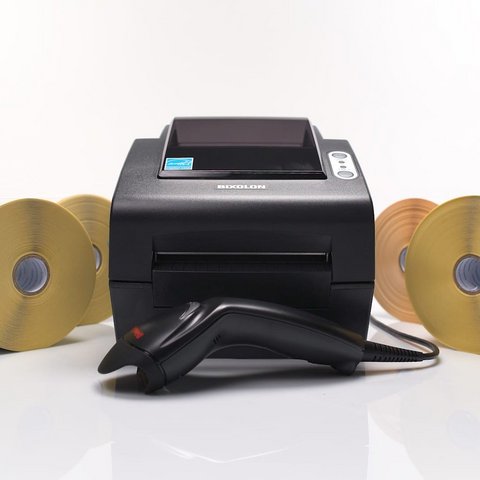 For fast, secure and thus effective product shipping using parcel service providers, companies need demand-driven printing systems and labels to fit them.

With our attractive complete packages consisting of a pre-configured printer and compatible roll-form labels, you are on the safe side from the very start, because these favourably-priced bundles have been exclusively chosen by our experienced product managers, and enormously simplify your entry into the subject of parcel shipping.

The solutions are optimally designed for the respective requirements of freight carriers and your individual print volume – entirely irrespective of whether you intend to ship using DHL, DPD, UPS, GLS or FedEx. For example, the compact Bixolon DX420 copes perfectly with printing up to 800 dispatch labels per day, whereas our powerfully-performing industrial printers, e.g. the Primas 2400T or Primas 3400T are a smart choice for larger print volumes.

So make things easy for yourself – and use the many benefits of Mediaform Starter Sets.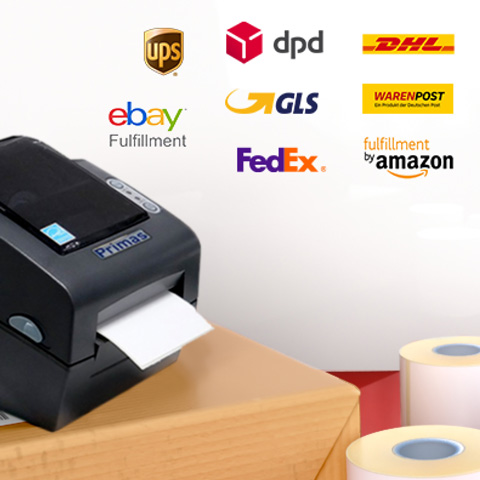 Non-transparent labels are the optimum choice to permanently cover up an producer's original identification marking, especially barcodes and article numbers.
We offer you our coated Primarigo® OPAK TD labels in our online shop. These are blackened on the lower surface, and this high opacity (non-see-through) makes them perfectly suitable for sticking over existing article identification markings.

They are an ideal choice, especially as labels for example for goods sold on via "fba" (= fulfilment by Amazon), for which they are shipped via the fulfilment network. The article labels are designed for direct thermal printing, and are also self-adhesive, strongly adherent and considerably more scratch-resistant as well as more moisture-proof than simple thermal labels.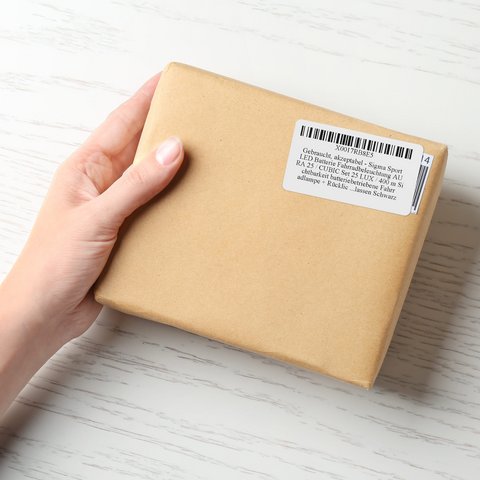 Thanks to their special adhesive, the removable labels in our product range are very easy to remove and also retain their removability long-term. Nevertheless, they adhere reliably to a wide variety of substrates, e.g. paper, cardboard and plastics.
Their possible uses range from simple product identification to all the applications that require residue-free removal of the label.
A very wide range of article label formats and designs is available in our online shop for you to choose from.
Dispatch labels are indispensable for a well-organised distribution process. They guarantee smooth processing in the incoming and outgoing goods areas – and thanks to their strong adhesive power, they also stick reliably and securely to rough or smooth cardboard boxes during transport.
In our online shop, you will find a wide selection of top-quality dispatch labels with various designs – from well-known manufacturers as well as from our own production range:
as complete Starter Sets comprising a label printer and matching rolls of labels
as dispatch labels in various designs on a roll
as pre-cut labels in sheet form, and
as dispatch labels for special requirements.
Which labels are best suited to your individual needs depends essentially on the type of dispatch and on the services providers you use. In any case, Mediaform's MARKENetiketten are designed to exactly meet the requirements of DHL, DPD, UPS, GLS and FedEx – and are optimally suitable for the printing systems we offer.