Are you interested in RFID? Then Mediaform is absolutely the right place for you!
Because here, and also in our modern online shop, you will find:
a powerful range of solutions that allows you to enter a new dimension of labelling and identification
an informative overview on the topic of RFID technology with wide-ranging uses and possible applications
helpful information about the individual components of an RFID system
If you have any questions, we will gladly advise you, and also on the choice of suitable products - and of course, as always, without any obligation.
What is RFID technology?
The abbreviation RFID stands for Radio-Frequency Identification – and describes a technology that uses radio waves for the automatic, contactless identification and localisation of objects and living beings.
The technology itself is not new. But RFID did not really take off until the nineteen-eighties, in connection with animal identification and toll systems. Much has happened since then. Today, RFID is an essential building block in the labelling and identification of individual products and bulk goods along the processing chain – in logistics and transport as well as in industry, construction, sports timekeeping, and above all in the retail trade. But the potential uses of RFID extend far beyond that - from access control and payment cards to security applications for luxury goods, textiles and medicines, for example.
RFID technology from Mediaform
As specialists for labelling, printing and identification, we offer you an extensive range of RFID products (RAIN-UHF/RFID). You can obtain the following from us:
Discover high-performance RFID solutions from Mediaform and leading manufacturers in our modern online shop now. Of course, we will gladly advise you on any questions you may have on the subject of RFID!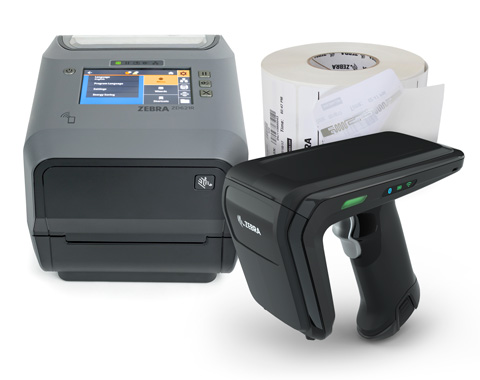 What does an RFID system consist of?
An RFID system consists of an RFID transponder and a suitable RFID read/write device and/or scanner. The transponder contains a microchip with a unique identification code, and is attached to the object in question. If a reader device (also called an RFID reader) is situated within range, it creates a magnetic or electromagnetic field that supplies the (passive or semi-active) transponder, via the latter's antenna, with the necessary energy – and enables coupling across a certain distance and even through materials. As a result, the information on the chip can be read out and changed by the reader device. However, it is even possible to store new data on the chip.
RFID transponders can transfer data via high frequency (13.56 MHz) or ultra-high frequencies (860 to 960 MHz / country-specific). In the Mediaform Shop, we offer you RFID technology for contactless data capture using UHF frequency (RAIN/RFID).
The right software for RFID technology
The software achieves the desired solution in the data collection process. In this case, it is particularly important to note that the individual process steps for data collection via RFID are clearly defined. This is the only way to plan the software development efficiently and to programme the final software product in a user-friendly way.