20. December 2022
Biodegradable cardboard labels - for the environment's sake
Attractive identification labelling with added sustainability: Güse now also offers environmentally friendly cardboard picture labels on request. The versatile material has no plastic or PE coating, and is biodegradable. In the Güse product range, this provides the green sector with another sustainable alternative to commonly-used PVC, polypropylene and other plastic materials in the sign, display and packaging segment.
From now on, anyone who uses compostable materials and packaging or attaches importance to a sustainable overall concept no longer has to do without the advantages of professional identification labelling. This innovative cardboard from Güse with a basis weight of 550 g/m² contains strong wood fibres to give the labels the necessary stability. Above all, however: The high-quality, FSC-certified material is neither coated with PE nor with plastic, but is nevertheless characterised by excellent colour and print quality and, last but not least, also by high water resistance. It comes 100% from sustainable forestry - and is biodegradable.
The labels can be used as hanging and push-in labels as well as stick labels. Furthermore, they are suitable for plant pots with an additional label holder.
Interested customers are welcome to ask Güse for a free sample bag of "Picture labels made of sustainable cardboard" in order to inform themselves about the attractive offer without obligation - and also to convince themselves of the high quality of the material. The labels, which are not offered in the standard range but are each produced individually to order, are all made in Germany.
You can find detailed information at https://www.guese.de/materialmuster-bildetiketten-aus-nachhaltigem-karton.html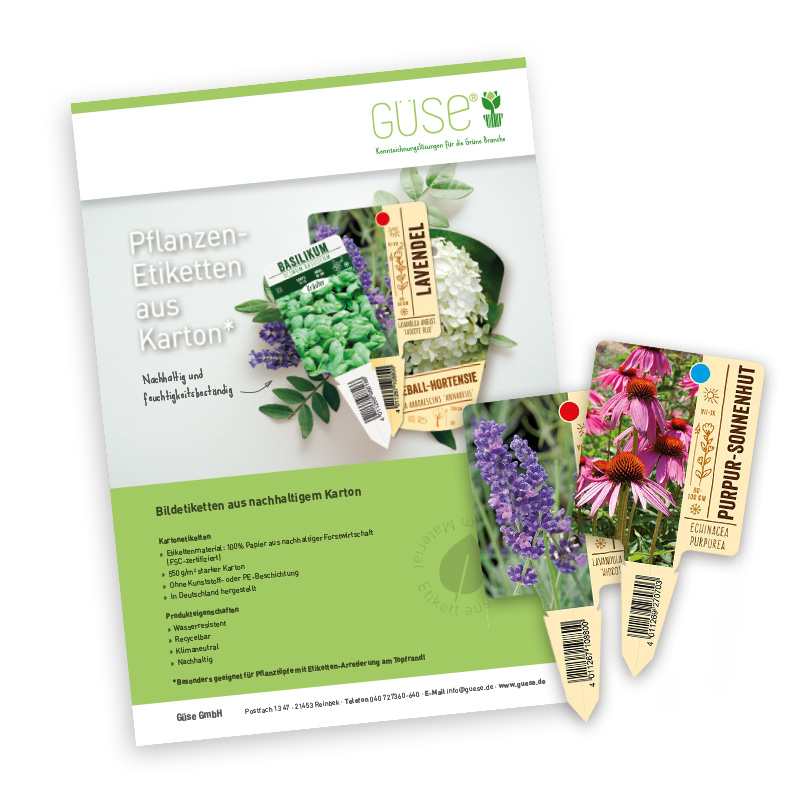 Andrea Weigert
Corporate communications/PR
+49 40 - 72 73 60 54