14. April 2022
Labelling plants on an organic farm
Up to 10,000 push-in labels per month need to be printed at the Apfelbacher organic farm in the peak season. A further approx. 1,000 wraparound labels per season are also required. So that's a lot of work for the agile team of the family business, which now grows fruit and vegetables on 20 hectares (50 acres) and sells them to private customers. Using a reliable TSC Auto ID industrial printer and attractive labelling materials from Güse GmbH, the many different plants are efficiently, safely, securely and above all legibly identified.
The Apfelbacher organic farm's cultivated area is situated at Bornheim-Brenig in the foothills between Cologne and Bonn. Mainly vegetables are grown according to Bio-land standards on fertile loess ground, 1,000 m² of which is under glass and plastic film. However, strawberries and soft fruit also grow and thrive excellently there.
Radishes, cabbages, salad greens, tomatoes, peppers and many other varieties arrive crisp and fresh for direct sale straight from the field. In addition, since 1995, they have been delivered to households in Cologne via the Apfelbacher vegetable box scheme, a regional delivery service for ecological products, and since 2010 also sold to private customers in our own farm shop. Moreover, as Johann Apfelbacher explains: "Our big close-to-nature garden, an area of three hectares (7.5 acres) around our farm, invites you to pick-your-own and to enjoy the restful quietness here, where we can also show you on a small scale how organic growing works." He studied Global Change Geography and is now, with his brother Franz, the second generation managing the family business founded by Max and Therese Apfelbacher in 1980.
The organic farm is among the first businesses in North Rhine-Westphalia on which fruit and vegetables are grown in accordance with controlled regulations. Annual farm inspections by the Bioland Association, as well as EU control, ensure that it all happens in an ecologically correct way on the Apfelbacher farm.
A new dimension in label printing
Identification labelling of the various plants also takes place correctly. For this, Johann Apfelbacher recently started using a type MB240T high-performance industrial printer from TSC Auto ID, a globally leading manufacturer of barcode label, RFID and colour printers. He sources the various labels from Güse GmbH in Reinbek. This experienced supplier of identification labelling solutions has been a reliable partner of the green sector for many years, and a marketing partner of TSC Auto ID at the same time.
The experienced ecological farmer is highly satisfied with the present solution: "With the large number of plants for which we need identification labels every day, the previous procedure using DIN A4 die-cut labels and an Excel/Word combination was simply too cumbersome and time-consuming. For us, working from a self-managed Excel database combined with the fast printing speed of the TSC printer and integrated label software means an absolute efficiency increase." Another advantage: Thanks to thermal transfer technology, the durable wording is permanently readable, particularly also on labels exposed to harsh outdoor weather conditions.
A perfect all-rounder for professional identification label printing
The MB240T is a proven bestseller in the TSC product range, ranking in the top class in the area of industrial 4-inch thermal transfer printers. Its key features are compact design, fast processors, maximum user convenience and high label throughput. The entirely metal construction, like the injection-moulded aluminium print head, are durable enough to withstand the toughest production environments. Its print resolution is 203 dpi, and the printing speed is up to 254 mm/s.
The smart all-rounder's high flexibility is particularly appreciated on the organic farm: Apfelbacher says: "We can now produce the most widely varying labels at the touch of a button, entirely as we need them, from just a few up to big batches." This user-friendly printer's menu can also be adapted to individual needs, enabling frequently used functions to be positioned for quicker access directly on the start screen of the high-contrast 3.5-inch colour LCD touch-panel. Data transmission takes place quickly and securely via cabled or even wireless interfaces. The standard setup has Ethernet, USB, USB-Host and RS232, and options include 802.11 a/b/g/n wireless and internal Bluetooth 4.2 MFi.
The scope of services also contains TSPL-EZD firmware including a data manager and programming language that enable standalone and downtime programming solutions to print labels without a connection to a host computer, or optionally even during a loss of network connection. Using the Seagull BarTender label software, also built-in, makes designing and automating label layouts child's play, because the software provides support when creating text, graphics, barcodes and serial numbering – and not least in compliance with important standards as well.
A label to match every need
Around 10,000 push-in labels per month are printed on the organic farm. 1,000 wraparound labels per season are also needed. Johann Apfelbacher orders the required amounts directly from Güse in Reinbek.
The white push-in labels in 25 x 120 mm format und 350µ thick have a matte surface and are supplied on rolls. The material is opaque, antistatic-treated rigid PVC with an increased proportion of recyclate. This makes the labels more sustainable and environmentally friendly than conventional plastic labels. They are ideally suitable for printing in the thermal transfer process, and also inspire confidence through their excellent weatherproof properties and chemical resistance. Due to their good mechanical strength, they can simply be pushed into the ground or into a pot.
The weather-resistant, extremely robust polyethylene wraparound labels with a matte surface are exceptionally robust and are also suitable for professional thermal transfer printing and, like the push-in labels, they can also be written on by hand. They are available from Güse in various sizes and different materials, with and without perforations and in up to eight different film colours. White wrap-around labels are used on the organic farm mainly to identify soft fruit bushes, perennials and woody plants.
There is a reason why Apfelbacher orders from Güse. Güse's business area manager Andreas Ziegler says: "That way, our customers can be certain to receive the best possible supplies of consumables, even in seasonal peak periods, and no supply bottlenecks occur." The reason: "With our wide expertise, and in particular due to our comprehensive range of products and services, we have been the Number One partner for the green sector for many years, and will be the same in the future as well. For us, everything from a single source is not just a cliché, it's customer focus lived out in practice."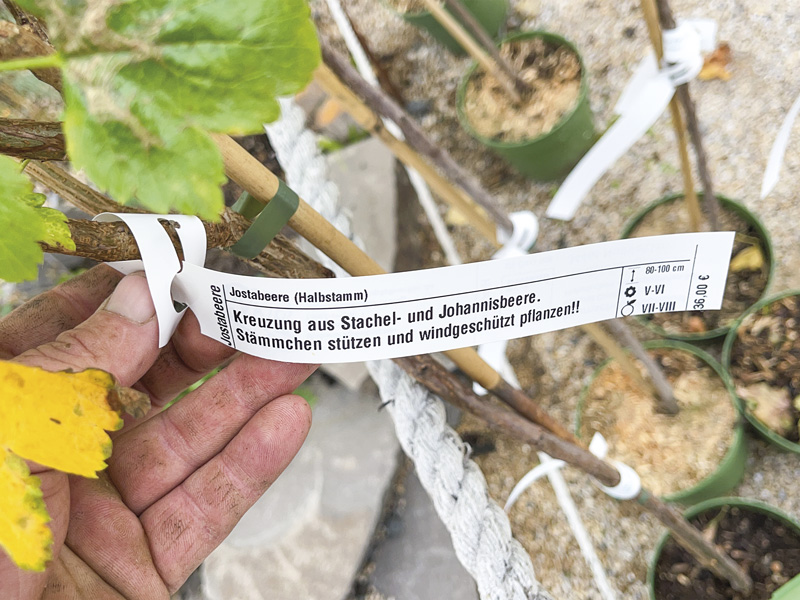 Andrea Weigert
Corporate communications/PR
+49 40 - 72 73 60 54