10. November 2020
Digitalise medication processes simply
Praxikett Designer has established itself as a market-leading solution in the medication identity labelling area, with more than 500 licensed accesses. The software solution contains more than 500 standardised coloured syringe labels, and enables the clear identification of ready-to-use medicines, stating the active ingredient, concentration and unit. Thus the appropriate label is always immediately available for every medication – printable simply via a one-click function, and entirely without handwritten supplements or corrections. Moreover, both the date and time of manufacture can be automatically output, which conforms to the currently valid requirements of the Pharmacy Operations Regulations.
Connectable to the Unique Device Identification barcode
The built-in scan function not only allows medicine labels to be printed faster, but also gives them additional security when assigning labels to the corresponding syringes. This excludes incorrectly labelled syringes. Furthermore, the solution offers additional benefits – especially for infusion pump control. Barcodes on the labels act as a fast, error-free pump control – individually matched and customised to the respective pump manufacturer.
Praxikett Designer also offers the option for medications with a Unique Device Identification (UDI) barcode to be linked directly to the appropriate labels. Thus scanning the ampoule guarantees that the matching medication label is always printed. The Pharmacy Product Number (PPN), also mandatory throughout Europe from February 2019 onwards, can likewise be integrated into the software simply by scanning a barcode. The information contained in the PPN, for example the expiry date and batch number, are read out and can be used individually – e.g. to indicate expired ampoules. The solution also allows patient data to be read in, printed and coded, for example for particular high-risk medications, which allows comparison via bedside scanning, and for a cross-check. It also allows problem-free documentation via a Patient Data Management System (PDMS) and in an Electronic Patient Record (EPA), which is already in use in various establishments.
Eligible for funding pursuant to the KHZG (Hospitals Future Act)
Praxikett Designer is eligible for funding in the framework of the new Hospitals Future Act (KHZG) via which the German Federal State provides hospitals with financial funding for digitalisation – including for end-to-end digital care documentation and for medication management.
More information: https://software.mediaform.de/en/products/medication-identity-labelling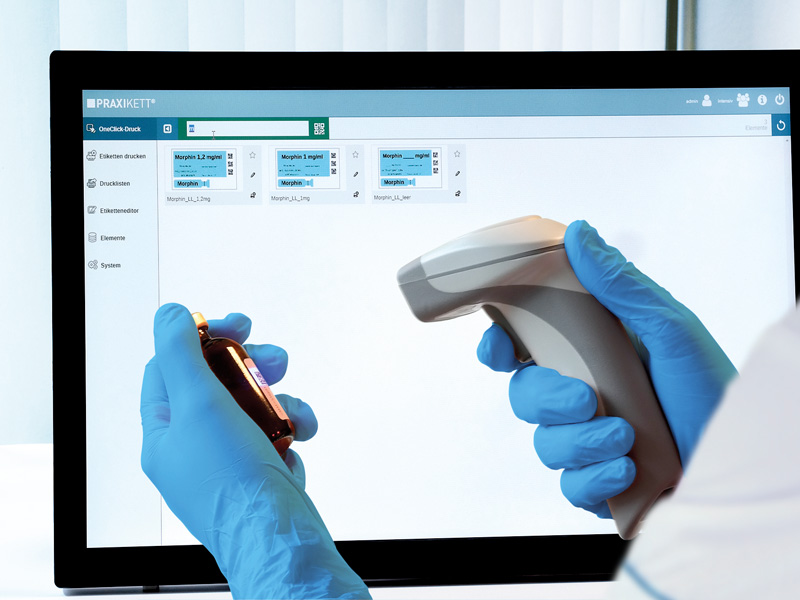 Andrea Weigert
Corporate communications/PR
+49 40 - 72 73 60 54