21. April 2023
Mediaform at the DMEA 2023 An impressive presence – with MediScan and RFID-solutions
This year, Mediaform will once again be showcasing its solutions at Europe's largest trade congress for healthcare IT, the DMEA in Berlin. The spotlight on Stand C-102 in Hall 1.2 will be focussing on Mediaform's innovative, user-friendly software and hardware solutions in particular. These not only facilitate everyday working routines in healthcare facilities, laboratories and pharmacies, but also ensure that greater security, efficiency and transparency are assured throughout the entire identification and labelling process.
Whether barcode scanners, new mobile data acquisition devices (MDAs) or a way of printing the most diverse variety of labels from the standard range on different printers via tablet - Mediaform is once again sending powerful impulses into the market with an exciting cross-section of its comprehensive solution spectrum.
As a special highlight ...
the auto-ID specialists will not only be presenting the most up-to-date version of the MediScan app, which was already received with great interest at the last DMEA, but also a live use case, which demonstrates the perfect interaction between different system components. This is because the printer, the Armilla patient wristbands, an MDA, a barcode scanner, a new NFC reader and the associated software have been perfectly coordinated with one another and therefore ensure smooth and reliable operation, even under hectic hospital operations. But, most importantly, they reduce the rate of errors occurring with respect to patient identification and the administration of medication.
In concrete terms, the use case first simulates the admission of a patient to hospital with the entry of patient data, i.e. surname, first name, date of birth and case number. This information is then printed on an Armilla patient wristband in plain text and in the form of a data matrix. The RF reader encrypts and saves the information on the NFC chip (RFID) by means of the newly developed PANDAprint tool, which was built by the development team using the modern MudBlazor framework for the first time. This creates a positive impression for the user, in terms of both functionality and appearance.
The second part of Mediaform's presentation demonstrates the secure administration of medication in MediScan on the MDA. Apart from the conventional method of logging in by entering the pertinent user data, a software update now enables the nurse or user to log in with the help of his or her NFC employee ID card. This is simply held under the MDA, and log-in takes place automatically by means of contactless data transmission. Patients, for their part, can now be identified in MediScan by means of both data matrix and by reading the NFC chip on the patient's wristband. The "administration check" module is available to ensure secure administration of medication.
All deployed devices are suitable for use in hospitals and laboratories and it goes without saying that they satisfy the special requirements of medical facilities.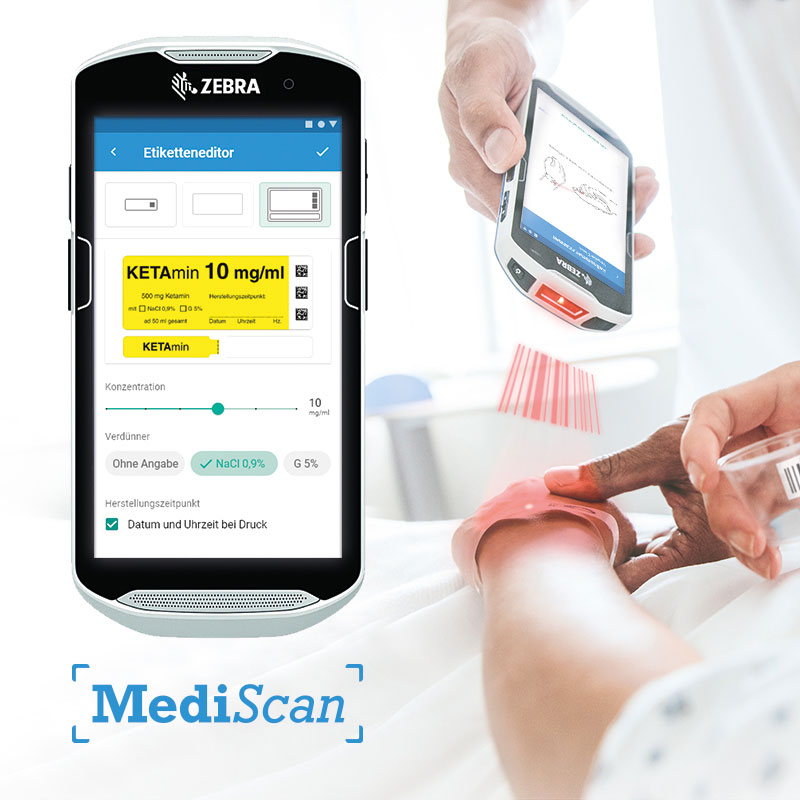 Andrea Weigert
Corporate communications/PR
+49 40 - 72 73 60 54