06. October 2021
Medical identification labelling belongs in expert hands
In clinics, pharmacies, blood banks, laboratories and pathology labs, an incorrect, defective, unreadable or missing identification label can have fatal consequences. The interruption of routine procedures and the cost resulting from relabelling or a repeat request for sample material must also not be underestimated.

As a full-service provider of data acquisition, identification labelling and identification systems, Mediaform has been a reliable partner for identification labelling solutions in the health service for more than 30 years. Being specialists, they are fully familiar with the industry sector's requirements, and with their mobile data acquisition terminals, special printer and scanner models, as well as their own software development, they contribute to optimising process safety, security and efficiency in clinical and diagnostic processes.

Today, the product range covers all the areas of use in clinics, laboratories, biobanks, pathology labs and pharmacies, from adhesive medicine labels made from paper and plastic film to metallised materials. All the materials are designed expressly for their respective applications, and comply with the codes of practice and standards currently in force.

Powerful concepts for laboratories

Medical laboratories will find that Mediaform has a broad range and wide variety of labels for their day-to-day requirements. Unprinted laboratory labels are offered for thermal transfer, direct thermal and laser printing methods. Mediaform supplies pre-printed labels, e.g. label sets with barcodes and 2-D codes for sample identification labelling, securely packed in a dispenser box developed for practical everyday use and which guarantees protected storage and convenient removal. The range also includes temperature-resistant labels for incubating microbiology materials in an incubator, or for cryogenic applications.

Specially chosen label materials guarantee reliable adhesion on highly curved plastic and glass surfaces, even with small radii. Special adhesives with strong, permanent adhesion also prevent detachment at the edges. At the same time, many label materials are resistant to moisture and the majority of disinfectants.

Specific solutions for special needs

For example, a special indicator dye on indicator labels certified in accordance with DIN EN ISO 11140-1:2005 documents a proper steam sterilisation process by an irreversible colour change from pink to brown.

Moreover, staining bath labels developed especially for the identification labelling of microscope slides are highly resistant to staining chemicals.

At the request of various laboratories, Mediaform also developed GUID (Globally Unique Identifier) label sets. With the help of apps or via browser-based diagnostic information systems, patients can use these for data-protection-compliant retrieval of their diagnostic findings – e.g. Coronavirus tests.

On the other hand, water-soluble labels are an outstandingly resource-conserving solution for reusable laboratory containers, gastro-norm containers (GN containers) and other multi-use transport containers. They are gently removed from the substrate in a few seconds during the washing process, and are fully soluble even in cold water.

Moreover, Mediaform's product range includes cryo-labels. These are designed for environmental temperatures down to 196°C, and are therefore especially attractive for pathology labs, biobanks and laboratories focusing on human genetics and molecular biology, as well as for cell culture product manufacturers.

The product range also includes primary and secondary blood-bag labels that reliably adhere to pre-cooled blood bags, even at low temperatures. All the labels conform to DIN ISO 3826.

A comprehensive advisory service is included

To enable product-appropriate labelling, cross-system and cross-location information processing, secure data transfer and reliable identification label monitoring, the auto-ID solution must be integrated into the respective IT structures in an exactly matching way. Therefore, consultancy is writ large in Mediaform: customers benefit from unrestricted support and short response times in the event of problems or damage claims, even after purchase. Because it is necessary to create not just a suitable label material, but a resilient solution for everyday requirements.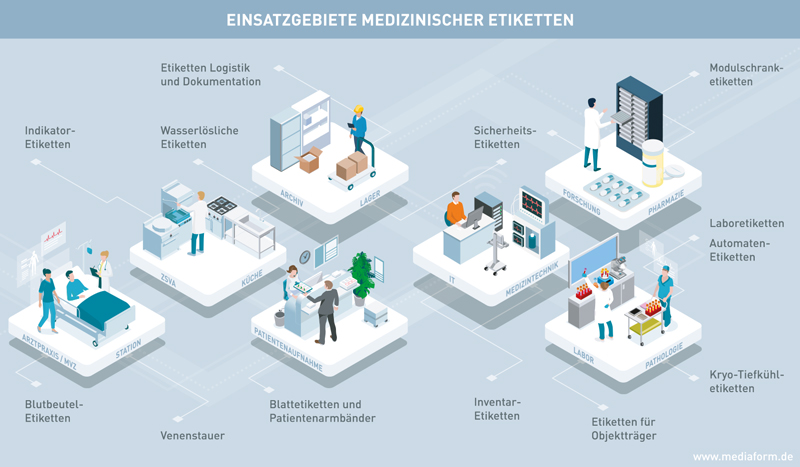 Andrea Weigert
Corporate communications/PR
+49 40 - 72 73 60 54